Bose F1 Model 812 Flexible Array loudspeaker
Part #: BOS7314191110 | Mfg #: 731419-1110
F1 Model 812 Flexible Array loudspeaker
Overview
Powerful, standalone sound that flexes to meet your coverage needs — the Bose F1 Model 812 is a 1000-watt, full-range loudspeaker featuring Bose Flexible Array technology. At the heart of the F1 is a 12-inch woofer nested behind an array of eight high-output drivers. These nine speakers are supported by a lower crossover point than conventional loudspeakers — to give full voice to your sound and deliver clearer, more natural vocals and midrange clarity, even at high volumes. And you control the vertical coverage pattern. So, wherever you're playing, you can adapt the PA to match the room. With the Bose F1 Model 812, your sound stands alone.
FEATURES
Powerful full-range loudspeaker with 132 dB max SPL and low-frequency performance down to 43 Hz (-10 dB)
Portable, standalone design with built-in 1000-watt amplifier and nine transducers: eight high-output drivers and a 12" high-power woofer
Lower crossover point than conventional loudspeakers for clear and natural vocals even at high volumes
Flexible Array technology: easily adjust coverage pattern — Straight, C, J, or Reverse J — to optimize sound for different spaces: floor level, on stage, for raked seats or bleachers, and more
Automatic EQ adjusts to maintain optimum tonal balance for each coverage pattern
Built-in handles for easy transport and compatible with standard 35 mm speaker stands (sold separately)
Optional Bose F1 Subwoofer (sold separately) for even more low-frequency response
Integrated speaker stand for F1 Model 812

Built-in 1000-watt amplifier

Hidden cable channels for clean appearance

Built-in handles for easy transport
Applications
Resorts and hospitality venues
Flex Array Shapes
Straight Pattern
Use the straight pattern when the audience is standing and their heads are approximately at the same height as the loudspeaker.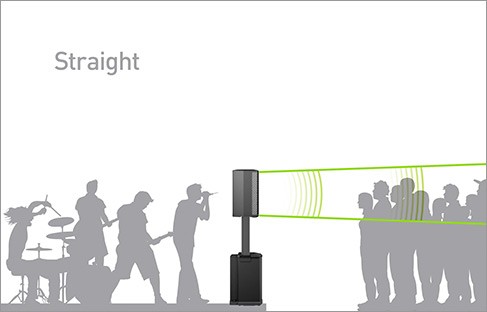 Reverse-J Pattern
The reverse-J pattern is good for an audience in raked seating that starts at loudspeaker height and extends above the top of the loudspeaker.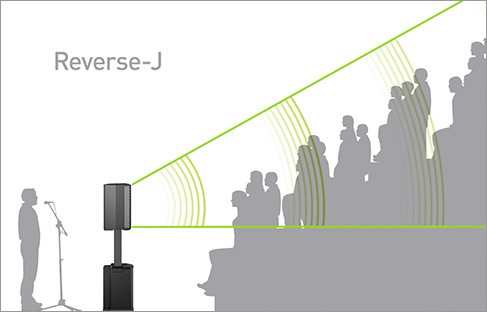 J Pattern
The J pattern works well when the loudspeaker is up on a raised stage and the audience is seated below on the floor.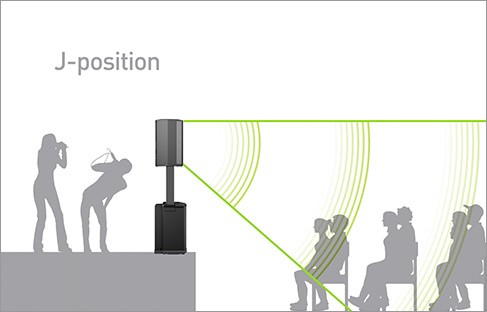 C Pattern
Use the C pattern for raked seating in an auditorium when the first row is on the floor with the loudspeaker.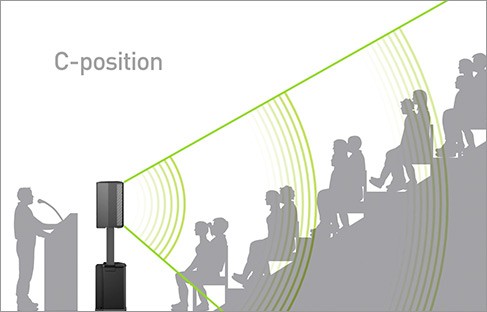 Tech Specs
Type:Powered PA Speaker

Speaker Drivers:1 x 12" LF, 8 x 2.25" (Mid/HF)

Number of Mixer Channels:2

Number of Mic Preamps:1

Inputs:1 x XLR/TRS Combo, 1 x 1/4", 1 x stereo RCA

Outputs:1 x XLR

Power Amp:1000W

Frequency Response:48Hz-16kHz (-10dB)

Enclosure Material:Composite

Mounting Options:Tripod Mount with 1.37" socket, Stackable (with F1 subwoofer)

Power Source:Standard IEC AC cable

Height:26.1"

Width:13.1"

Depth:14.6"

Weight:44.5 lbs.

Manufacturer Part Number:731419-1110
* -- indicates specification not published by manufacturer.